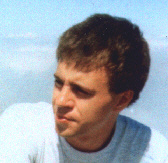 Today is the 10th Anniversary of a huge change in my life in every way imaginable.

It was Saturday August 24th 2002 at 3:27 pm and I was using the chat program ICQ. I put in a search for users with my surname, as I had done many times before and lo and behold... SOMEONE WITH MY SURNAME! 

Łukasz Firkowski responded to my Hello with "Cześć" (Polish for Hello). These are the first words that were exchanged between Łukasz
Firkowski & I 10 years ago today.

As our conversation progressed, we discovered we had the same interests. Łukasz & I were both curious about our family history. Until I started talking with Łukasz I thought that my Firkowski family was the only one in the world. We decided we would try and find all of the members of the Firkowski family to see how we are related.

The research of our family took thousands of hours worth of work over the years, but long days of hard work allowed us to hold 2 family reunions in Poland in 2004 & 2006. I have been to Poland 3 times now and have enjoyed every visit.

My life totally changed that day because I have gained family & friends I never knew I had. I have since begun doing genealogy research for others professionally, including research within Poland. HAPPY ANNIVERSARY ŁUKASZ!!!!!!!