Family Reunion
Previous Article Article Transcription | English Translation Next Article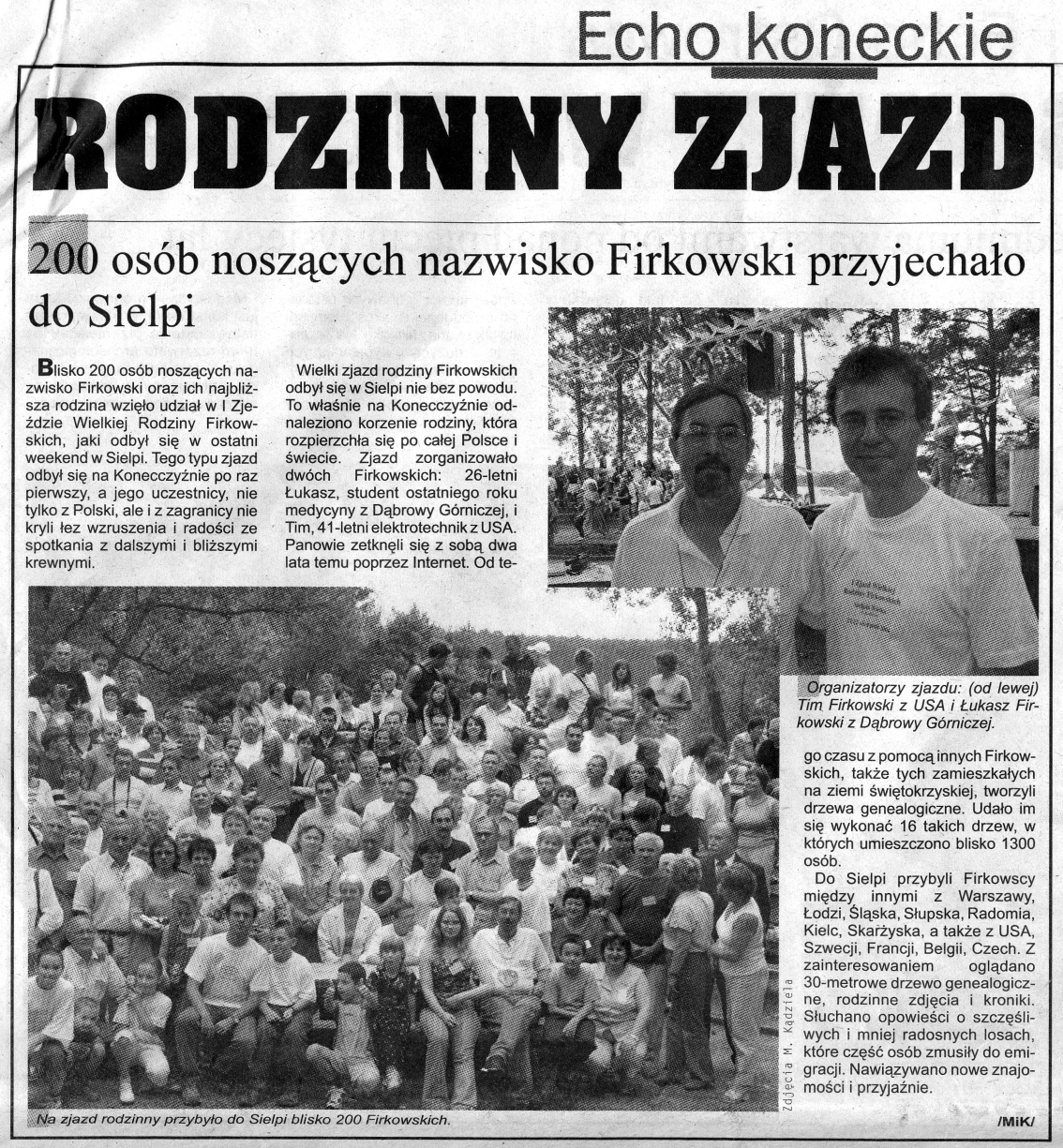 ---
---
Previous Article Back to Top | Article Transcription Next Article
FAMILY REUNION
200 people bearing the Firkowski name came to Sielpia
Nearly 200 people bearing the name Firkowski and their immediate families took part in the Reunion of the Great Firkowski Family, which took place last weekend in Sielpia. This particular reunion was held in the Konskie area for the first time, and its participants, not only from Poland, but also from abroad, did not hide their emotion and joy of meeting distant and close relatives.
A great reunion was held for the Firkowski family in Sielpia and not without reason. It was located close to Konskie family roots, which are scattered all over Poland and the world. The reunion was held by two Firkowskis: 26-year-old Lukasz, a student in his final year of medical school from Dabrowa Gornicza, Tim, 41-year-old electronic technician from the USA. The men have been in contact with each other for two years over the Internet. Since that time, with the help of other Firkowskis, including those residing in the Swietokrzyskie, they created family trees. They managed to create 16 such trees, which contained close to 1300 people.
To Sielpia the Firkowskis came, from Warsaw, Lodz, Silesia, Slupsk, Radom, Kielce, Skarzysko, as well as the USA, Sweden, France, Belgium, the Czech Republic. They viewed the 30-meter tree, family photos and records with interest. They listened to stories of happy and less happy fates that forced some people to emigrate. Reference was made to new acquaintances and friendships.
Nearly 200 Firkowskis came to the family reunion in Sielpia.
Reunion organizers (from left) Tim Firkowski from the U.S. and Lukasz Firkowski from Dabrowa Gornicza.
---
---
Previous Article Back to Top | English Translation Next Article
RODZINNY ZJAZD
200 osób noszących nazwisko Firkowski przyjechało do Sielpi
Blisko 200 osób noszących nazwisko Firkowski oraz ich najbliższa rodzina wzięło udział w I Zjeździe Wielkiej Rodziny Firkowskich, jaki odbyt się w ostatni weekend w Sielpi. Tego typu zjazd odbyt się na Konecczyźnie po raz pierwszy, a jego uczestnicy, nie tylko z Polski, ale i z zagranicy nie kryli tez wzruszenia i radości ze spotkania z dalszymi i bliższymi krewnymi.
Wielki zjazd rodziny Firkowskich odbyt się w Sielpi nie bez powodu. To właśnie na Konecczyźnie odnaleziono korzenie rodziny, która rozpierzchła się po catej Polsce świecie. Zjazd zorganizowało dwóch Firkowskich: 26-letn Łukasz, student ostatniego roku medycyny z Dąbrowy Górniczej, Tim, 41 -letni elektrotechnik z USA. Panowie zetknęli się z sobą dwa lata temu poprzez Internet. Od tego czasu z pomocą innych Firkowskich, także tych zamieszkałych na ziemi świętokrzyskiej, tworzyli drzewa genealogiczne. Udało im się wykonać 16 takich drzew, w których umieszczono blisko 1300 osób.
Do Sielpi przybyli Firkowscy między innymi z Warszawy, Łodzi, Śląska, Słupska, Radomia, Kielc, Skarżyska, a także z USA, Szwecji, Francji, Belgii, Czech. Z zainteresowaniem oglądano 30-metrowe drzewo genealogiczne, rodzinne zdjęcia i kroniki. Słuchano opowieści o szczęśliwych i mniej radosnych losach, które część osób zmusiły do emigracji. Nawiązywano nowe znajomości i przyjaźnie.
Na zjazd rodzinny przybyło do Sielpi blisko 200 Firkowskich.
Organizatorzy zjazdu: (od lewej) Tim Firkowski z USA i Łukasz Firkowski z Dąbrowy Górniczej.
Previous Article Back to Top | Article Transcription | English Translation Next Article