Searching for Firkowskis!
Searching for Firkowskis!
English Translation | Article Transcription Next Article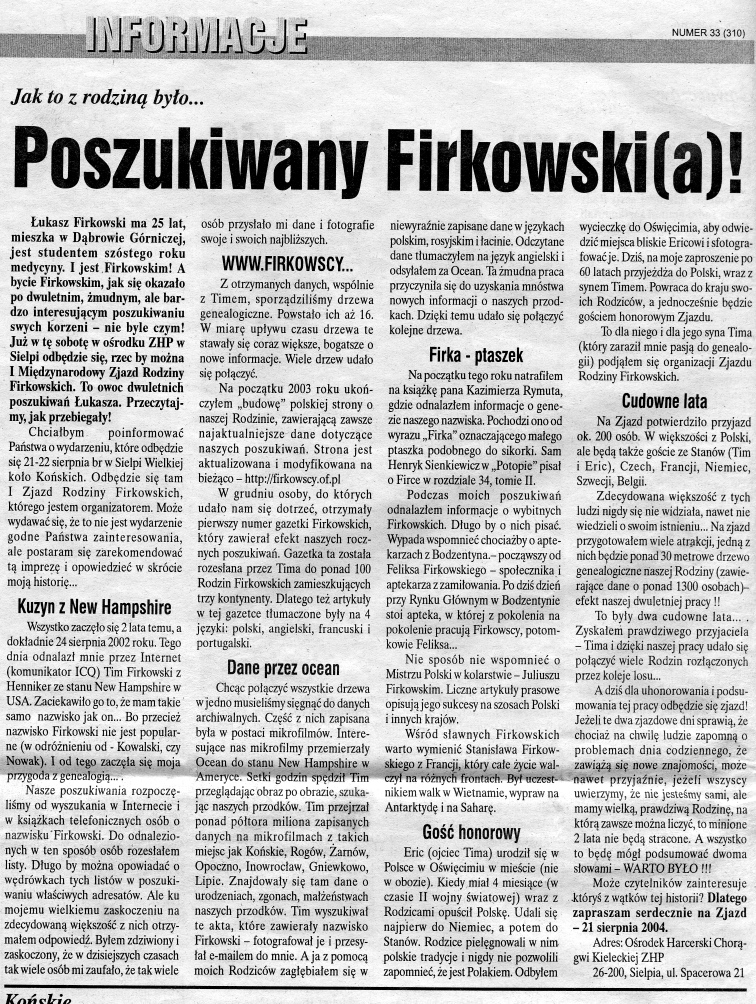 ---
---

Back to Top | Article Transcription Next Article
As it was with the family...
Searching for Firkowskis!
Łukasz Firkowski is 25 & he lives in Dabrowa Gornicza. He is a medical student. He is in his 6th year of medical school. And he is Firkowski! And it is really something to be Firkowski! - Which can be said after 2 years of tedious, but very interesting research into their own roots. The first International Firkowski Family Reunion will take place in Sielpia. It is the fruit of Lukasz's two years of research. Let's write what's happening at the reunion!
I would like to inform you about the event that will take place August 21-22 this year in Sielpia Wielka near Konskie. The First Firkowski Family Reunion will be held there. I am the organizer of this reunion. It may not seem to be notable enough to gain your attention, but I want to recommend this event and to tell in short, my story...
Cousin from New Hampshire
It all began 2 years ago, 24 August 2002 to be exact. On this day, I was found on the Internet (ICQ), by Tim Firkowski from Henniker in the State of New Hampshire in the USA. He was interested in the fact that we have the same surname – Firkowski, because it is not a common name (unlike Kowalski, or Nowak). This was beginning of my adventure with genealogy...
First we started searching for people with the surname Firkowski on the Internet and in the telephone directories. Then I sent letters to the people that I found. It was a big surprise when I received answers to most of my letters. I was so surprised that so many people trusted me these days, and that they sent me photos and data about people from their close family.
Together, with Tim, we used the data to build the family tree. There are 16 branches. Over time, these branches got bigger and richer with more information. Many branches we succeeded in joining. At the beginning of 2003, I finished making the polish webpage about our family. On this page I put all the actual data from our research. The page is updated and modified all the time
http://firkowscy.of.pl
In December, the first edition of the family newsletter was sent to some of the people that we had located. There we wrote about our year of research. Tim sent this newsletter to about 100 families on 3 continents. That is why articles in this newsletter were translated into 4 languages: Polish, English, French and Portuguese.
If we wanted to join all trees, we had to get at archived data. Most of them are saved on microfilm. Microfilmed records were filmed here years ago and went to America. Tim spent hundreds of hours looking through pictures, looking for our ancestors. Tim looked through over 1.5 million saved records on microfilm from places like Końskie, Rogów, Zarnów, Opoczno, Inowrocław, Gniekowo, and Lipie. There were the birth, death & marriage records of our ancestors. Tim looked for records that contained the surname Firkowski- he was making photos of those records and he sent them in emails to me. And I with the help of my parents tried reading the very fuzzy archived records in Polish, Russian and Latin. What I was able to read, I translated into English and I was sending back across the ocean. This tedious work contributed in getting many new pieces of information about our ancestors. Thanks to that, we could join the next trees.
At the beginning of this year I came across Mr. Kazimierz Rymut's book, where I found information about the beginning of our surname. It comes from the word- firka. Firka means - small bird similar to a tit. Henryk Sienkiewicz in "Potop" wrote about Firka in chapter 34, volume II.
During my research I found information about famous Firkowskis. I could write a lot about them. I can tell you about the druggist's family from Bodzentyn. One from them was Feliks Firkowski – social activist and druggist. To this day at Rynek Glowny in Bodzentyn is a drugstore. Firkowskis still work there– descendants of Feliks. I can tell about Juliusz Firkowski- Polish bicycling champion. Many articles have been written about his achievements in Poland and along other countries roads. Among the Firkowskis I can tell you about Stanislaw Firkowski from France. He fought all his life on different fronts. He was fighting in Vietnam; he was a participant in a mission to Antarctica, and the Sahara.
Guest of honor
Eric- Tim's father was born in Poland in Oswiecim (the city)- not in the camp. When he was 4 month old (during WWII) together with his parents he left Poland. They went first to Germany, then to the States. Eric's parents fostered in him Polish traditions and they did not allow him to forget that he is Polish. I went for a trip to Oswiecim. I wanted to visit places relative to Eric and I wanted to take photos. Today by my invitation, he will return after 60 years, with his son Tim. He will return to the country of his parents and at the same time he will be guest of honor at the Reunion.
This is for him - and for his son Tim (who addicted me to genealogy). I attempted to organize The Firkowski Family Reunion.
200 persons confirmed their arrival to the Reunion. Most of them coming from Poland, but there will be guests from the States (Eric and Tim), Czech Republic, France, Germany, Sweden and Belgium.
Almost all of them had not known about the existence of other Firkowskis. I am preparing many attractions for the Reunion. One of them will be 30-meter long genealogical tree of our Family (with data for over 1300 people)- the results of our two years of work!
It was a wonderful two years... I gained a true best friend – Thanks to Tim and our work, the Reunion will happen!
If these 2 days will allow people to even forget about their problems, if these people find new friends, if we all will believe that we are not alone - but acknowledge that we truly have a large family, and we can count upon this family - I can say that the last 2 years will not be lost. And I will be able to say in 2 words "Worth while"!!!
Maybe readers will be interested in at least one piece of this story? That is why I send an invitation to the Reunion on 21 August 2004.
Address: Ośrodek Harcerski Chorągwi Kieleckiej ZHP
26- 200, Sielpia, ul. Spacerowa 2
---
---
Back to top | English Translation Next Article
Jak to z rodziną było...
Poszukiwany Firkowski(a)!
Łukasz Firkowski ma 25 lat, mieszka w Dąbrowie Górniczej, jest studentem szóstego roku medycyny. I jest Firkowskim! A bycie Firkowskim, jak się okazało po dwuletnim, żmudnym, ale bardzo interesującym poszukiwaniu swych korzeni - nie byle czym! Już w tę sobotę w ośrodku ZHP w Sielpi odbędzie się, rzec by można I Międzynarodowy Zjazd Rodziny Firkowskich. To owoc dwuletnich poszukiwań Łukasza. Przeczytajmy, jak przebiegały!
Chciałbym poinformować Państwa o wydarzeniu, które odbędzie się 21-22 sierpnia br w Sielpi Wielkiej koło Końskich. Odbędzie się tam I Zjazd Rodziny Firkowskich, którego jestem organizatorem. Może wydawać się, że to nie jest wydarzenie godne Państwa zainteresowania, ale postaram się zarekomendować tą imprezę i opowiedzieć w skrócie moją historię...
Wszystko zaczęło się 2 lata temu, a dokładnie 24 sierpnia 2002 roku. Tego dnia odnalazł mnie przez Internet (komunikator ICQ) Tim Firkowski z Henniker ze stanu New Hampshire w USA. Zaciekawiło go to, że mam takie samo nazwisko jak on... Bo przecież nazwisko Firkowski nie jest popularne (w odróżnieniu od - Kowalski, czy Nowak). I od tego zaczęła się moja przygoda z genealogią....
Nasze poszukiwania rozpoczęliśmy od wyszukania w Internecie i w książkach telefonicznych osób o nazwisku Firkowski. Do odnalezionych w ten sposób osób rozesłałem listy. Długo by można opowiadać o wędrówkach tych listów w poszukiwaniu właściwych adresatów. Ale ku mojemu wielkiemu zaskoczeniu na zdecydowaną większość z nich otrzymałem odpowiedź. Byłem zdziwiony i zaskoczony, że w dzisiejszych czasach tak wiele osób mi zaufało, że tak wiele osób przysłało mi dane i fotografie swoje i swoich najbliższych.
Z otrzymanych danych, wspólnie z Timem, sporządziliśmy drzewa genealogiczne. Powstało ich aż 16. W miarę upływu czasu drzewa te stawały się coraz większe, bogatsze o nowe informacje. Wiele drzew udało się połączyć.
Na początku 2003 roku ukończyłem "budowę" polskiej strony o naszej Rodzinie, zawierającą zawsze najaktualniejsze dane dotyczące naszych poszukiwań. Strona jest aktualizowana i modyfikowana na bieżąco - http://firkowscy.of.pl
W grudniu osoby, do których udało nam się dotrzeć, otrzymały pierwszy numer gazetki Firkowskich, który zawierał efekt naszych rocznych poszukiwań. Gazetka ta została rozesłana przez Tima do ponad 100 Rodzin Firkowskich zamieszkujących trzy kontynenty. Dlatego też artykuły w tej gazetce tłumaczone były na 4 języki: polski, angielski, francuski i portugalski.
Chcąc połączyć wszystkie drzewa w jedno musieliśmy sięgnąć do danych archiwalnych. Część z nich zapisana była w postaci mikrofilmów. Interesujące nas mikrofilmy przemierzały Ocean do stanu New Hampshire w Ameryce. Setki godzin spędził Tim przeglądając obraz po obrazie, szukając naszych przodków. Tim przejrzał ponad półtora miliona zapisanych danych na mikrofilmach z takich miejsc jak Końskie, Rogów, Żarnów, Opoczno, Inowrocław, Gniewkowo, Lipie. Znajdowały się tam dane o urodzeniach, zgonach, małżeństwach naszych przodków. Tim wyszukiwał te akta, które zawierały nazwisko Firkowski - fotografował je i przesyłał e-mailem do mnie. A ja z pomocą moich Rodziców zagłębiałem się w niewyraźnie zapisane dane w językach polskim, rosyjskim i łacinie. Odczytane dane tłumaczyłem na język angielski i odsyłałem za Ocean. Ta żmudna praca przyczyniła się do uzyskania mnóstwa nowych informacji o naszych przodkach. Dzięki temu udało się połączyć kolejne drzewa.
Na początku tego roku natrafiłem na książkę pana Kazimierza Rymuta, gdzie odnalazłem informacje o genezie naszego nazwiska. Pochodzi ono od wyrazu "Firka" oznaczającego małego ptaszka podobnego do sikorki. Sam Henryk Sienkiewicz w "Potopie" pisał o Firce w rozdziale 34, tomie II.
Podczas moich poszukiwań odnalazłem informacje o wybitnych Firkowskich. Długo by o nich pisać. Wypada wspomnieć chociażby o aptekarzach z Bodzentyna- począwszy od Feliksa Firkowskiego - społecznika i aptekarza z zamiłowania. Po dziś dzień przy Rynku Głównym w Bodzentynie stoi apteka, w której z pokolenia na pokolenie pracują Firkowscy, potomkowie Feliksa...
Nie sposób nie wspomnieć o Mistrzu Polski w kolarstwie - Juliuszu Firkowskim. Liczne artykuły prasowe opisują jego sukcesy na szosach Polski i innych krajów.
Wśród sławnych Firkowskich warto wymienić Stanisława Firkowskiego z Francji, który całe życie walczył na różnych frontach. Był uczestnikiem walk w Wietnamie, wypraw na Antarktydę i na Saharę.
Eric (ojciec Tima) urodził się w Polsce w Oświęcimiu w mieście (nie w obozie). Kiedy miał 4 miesiące (w czasie II wojny światowej) wraz z Rodzicami opuścił Polskę. Udali się najpierw do Niemiec, a potem do Stanów. Rodzice pielęgnowali w nim polskie tradycje i nigdy nie pozwolili zapomnieć, że jest Polakiem. Odbyłem wycieczkę do Oświęcimia, aby odwiedzić miejsca bliskie Ericowi i sfotogra-fowaćje. Dziś, na moje zaproszenie po 60 latach przyjeżdża do Polski, wraz z synem Timem. Powraca do kraju swoich Rodziców, a jednocześnie będzie gościem honorowym Zjazdu.
To dla niego i dla jego syna Tima (który zaraził mnie pasją do genealogii) podjąłem się organizacji Zjazdu Rodziny Firkowskich.
Na Zjazd potwierdziło przyjazd ok. 200 osób. W większości z Polski, ale będą także goście ze Stanów (Tim i Erie), Czech, Francji, Niemiec, Szwecji, Belgii.
Zdecydowana większość z tych ludzi nigdy się nie widziała, nawet nie wiedzieli o swoim istnieniu... Na zjazd przygotowałem wiele atrakcji, jedną z nich będzie ponad 30 metrowe drzewo genealogiczne naszej Rodziny (zawierające dane o ponad 1300 osobach)-efekt naszej dwuletniej pracy 1!
To były dwa cudowne lata... . Zyskałem prawdziwego przyjaciela - Tima i dzięki naszej pracy udało się
połączyć wiele Rodzin rozłączonych
przez koleje losu...
A dziś dla uhonorowania i podsumowania tej pracy odbędzie się zjazd! Jeżeli te dwa zjazdowe dni sprawią, że chociaż na chwilę ludzie zapomną o problemach dnia codziennego, że zawiążą się nowe znajomości, może nawet przyjaźnie, jeżeli wszyscy uwierzymy, że nie jesteśmy sami, ale mamy wielką, prawdziwą Rodzinę, na którą zawsze można liczyć, to minione 2 lata nie będą stracone. A wszystko to będę mógł podsumować dwoma słowami-WARTO BYŁO!!!
Może czytelników zainteresuje .któryś z wątków tej historii? Dlatego zapraszam serdecznie na Zjazd - 21 sierpnia 2004.
Adres: Ośrodek Harcerski Chorągwi Kieleckiej ZHP
26-200, Sielpia, ul. Spacerowa 21
Back to Top | Article Transcription | English Translation Next Article