Page 1
The first such reunion p1
Previous Article Article Transcription | English Translation Next Article
Article Page 1 of 4
Page 2 | Page 3 | Page 4 | Next Page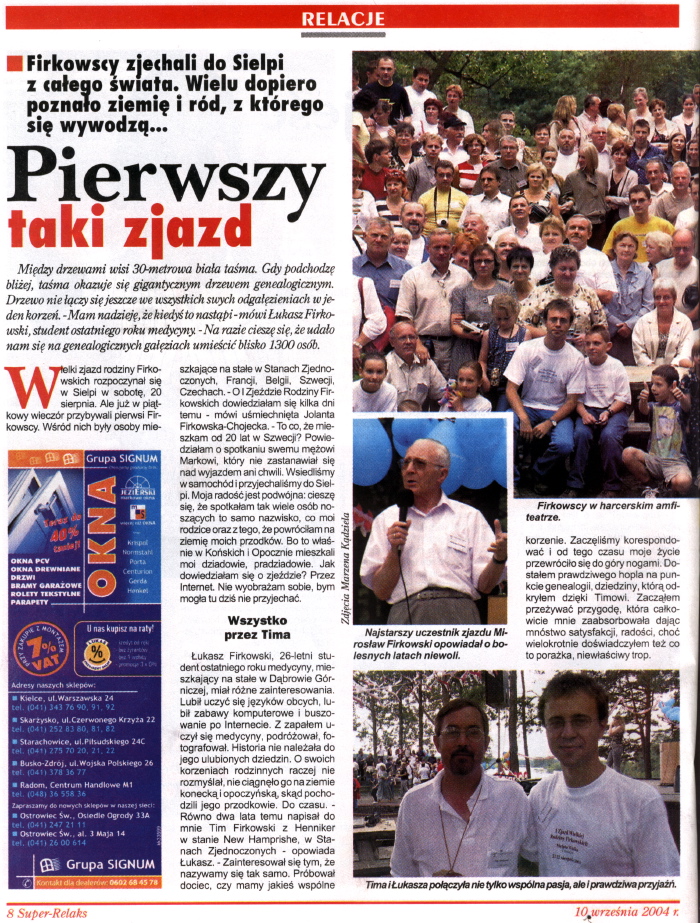 ---
---
Previous Article Back to Top | Article Transcription Next Article
Page 2 | Page 3 | Page 4 | Next Page
The Firkowskis came to Sielpia from all over the world. Many from them just got to know the place and family that they are from.
The first such reunion.
Between the trees hangs a 30 meter long white ribbon. When I move up closer, the ribbon turns out to be a gigantic genealogy tree. The genealogy tree doesn't join at all branches into 1 root yet. – I hope that some day it will happen - says Lukasz Firkowski, the final year medical student. - I am very happy that we could put 1300 people on the genealogy branches for the time being.
The Great Firkowski Family Reunion started in Sielpia on Saturday, 20 August. But the first guests arrived there already on Friday. Among them were people from The States, Belgium, France, Sweden, & Czech Republic. I learned about the First Firkowski Family Reunion a few days ago- said a smiling Jolanta Chojecka (Firkowska). It was not a problem that I lived in Sweden for 20 years – I told my husband Marek about this family meeting. He did not question whether we should go to Poland. We got in the car and came to Sielpia. My joy is double: I am glad that I met so many people, that they are Firkowski like my parents and I am glad that I returned to the land of my ancestors, Because my grandparents and great grandparents lived in Opoczno and Konskie. How did I learn about the reunion? On the Internet. I can't imagine not coming here today.
Lukasz Firkowski, 26 years old & a medical student who lives in Dabrowa Gornicza had different hobbies. He liked to learn different languages; he liked playing on the computer and surfing on the Internet. He was eagerly learning medicine, was traveling and enjoying photography. He did not like learning history. He did not think about his family roots, he did not feel the necessity to go to Opole and Konskie- to places where his ancestors came from. But one time - 2 years ago Tim Firkowski wrote to me, he is from Henniker in New Hampshire in the States – said Lukasz. He was interested that we have the same surname. . He tried to check if we had roots common to us. We started to write and from that moment my life changed. I got truly hooked on genealogy, to an extent that was revealed thanks to Tim. I started to experience an adventure that preoccupied me and gave me satisfaction and joy, although I have experienced what failure and false leads mean.
Firkowskis in the camp amphitheater.
The oldest participant in the event. Miroslaw Firkowski talked about the painful years of captivity.
Tim and Luke joined not only by a common passion, but a true friendship.
8 Super-Relax
10 September 2004
---
Page 2 | Page 3 | Page 4 | Next Page
Firkowscy zjechali do Sielpi z całego świata. Wielu dopiero poznało ziemię i ród, z którego się wywodzą...
Pierwszy taki zjazd
Między drzewami wisi 3Chnetrowa biała taśma. Gdy podchodzę bliżej, taśma okazuje się gigantycznym drzewem genealogicznym. Drzewo nie łączy się jeszcze we wszystkich swych odgałęzieniach w jeden korzeń. -Mam nadzieję, że kiedyś to nastąpi -mówi Łukasz Firko-wski, student ostatniego roku medycyny. -Na razie cieszę się, że udało nam się na genealogicznych gałęziach umieścić blisko 1300 osób.
Wielki zjazd rodziny Firko-wskich rozpoczynał się w Sielpi w sobotę, 20 sierpnia. Ale już w piątkowy wieczór przybywali pierwsi Firkowscy. Wśród nich były osoby mieszkające na stałe w Stanach Zjednoczonych, Francji, Belgii, Szwecji, Czechach. - OI Zjeździe Rodziny Firkowskich dowiedziałam się kilka dni temu - mówi uśmiechnięta Jolanta Firkowska-Chojecka. - To co, że mieszkam od 20 lat w Szwecji? Powiedziałam o spotkaniu swemu mężowi Markowi, który nie zastanawiał się nad wyjazdem ani chwili. Wsiedliśmy w samochód i przyjechaliśmy do Sielpi. Moja radość jest podwójna: cieszę się, że spotkałam tak wiele osób noszących to samo nazwisko, co moi rodzice oraz z tego, że powróciłam na ziemię moich przodków. Bo to właśnie w Końskich i Opocznie mieszkali moi dziadowie, pradziadowie. Jak dowiedziałam się o zjeździe? Przez Internet. Nie wyobrażam sobie, bym mogła tu dziś nie przyjechać.
Łukasz Firkowski, 26-letni student ostatniego roku medycyny, mieszkający na stałe w Dąbrowie Górniczej, miał różne zainteresowania. Lubił uczyć się języków obcych, lubił zabawy komputerowe i buszowanie po Internecie. Z zapałem u-czył się medycyny, podróżował, fotografował. Historia nie należała do jego ulubionych dziedzin. O swoich korzeniach rodzinnych raczej nie rozmyślał, nie ciągnęło go na ziemie konecką i opoczyńską skąd pochodzili jego przodkowie. Do czasu. -Równo dwa lata temu napisał do mnie Tim Firkowski z Henniker w stanie New Hamprshire, w Stanach Zjednoczonych - opowiada Łukasz. - Zainteresował się tym, że nazywamy się tak samo. Próbował dociec, czy mamy jakieś wspólne korzenie. Zaczęliśmy korespondować i od tego czasu moje życie przewróciło się do góry nogami. Dostałem prawdziwego hopla na pun¬kcie genealogii, dziedziny, którą odkryłem dzięki Timowi. Zacząłem przeżywać przygodę, która całkowicie mnie zaabsorbowała dając mnóstwo satysfakcji, radości, choć wielokrotnie doświadczyłem też co to porażka, niewłaściwy trop.
Firkowscy w harcerskim amfiteatrze.
Najstarszy uczestnik zjazdu Mirosław Firkowski opowiadał o bolesnych latach niewoli.
Tima i Łukasza połączyła nie tylko wspólna pasja, ale i prawdziwa przyjaźń.
8 Super-Relaks
10-września 2004 r.
Previous Article Back to Top | Article Transcription | English Translation Next Article
Page 2 | Page 3 | Page 4 | Next Page