Page 2
The first such reunion p2
Previous Article Article Transcription | English Translation Next Article
Article Page 2 of 4
Previous Page | Page 1 | Page 3 | Page 4 | Next Page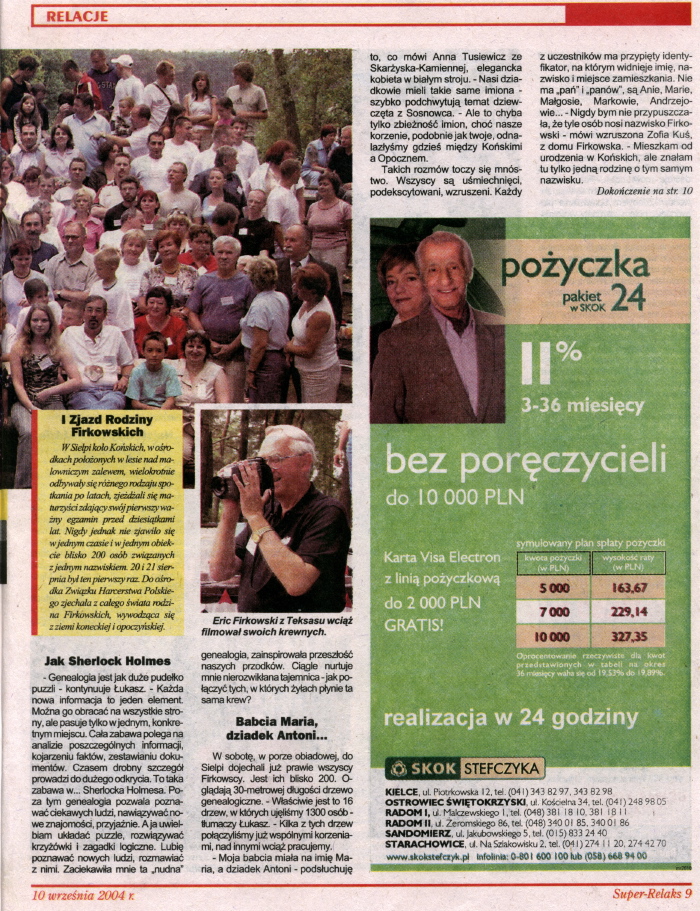 ---
Ist Firkowski Family Reunion
There have been many gatherings over the years in Sielpia near Konskie in a holiday camp in the woods at a picturesque lake. Students celebrated there when they graduated from high school dozens of years ago. But there were not as many people (200) belonging to 1 surname. The 20th and 21st of August was the first time that there were so many people from 1 family. The Firkowski Family came from all over the world to the holiday camp - ZHP. This family comes from the Konskie & Opole area.
Like Sherlock Holmes
Genealogy is like big box of puzzle pieces- continues Lukasz- Every new piece of information is one puzzle piece. It can be turned around in different directions but it fits in only one place. Success relies on detailed analysis of information, associated facts, & compiled documents. Sometimes the smallest detail can lead to a big discovery. It's so much fun... Sherlock Holmes. Otherwise Genealogy allows you to get to know new & interesting people, and I like puzzles, to solve crosswords and logic riddles. I like to get to know new people, talk with them. I am interested in "boring" genealogy. It inspired me into the past of my ancestors. It still bothers me to not be able to unravel the mystery on how I can join people within their bloodline.
Grandmother Maria, grandfather Antoni
On Saturday, dinnertime in Sielpia came for almost all the Firkowskis. There are 200 people. They look at the 30-meter genealogy tree. There are about 16 trees where we have data on 1300 people – said Lukasz. - A few of these trees with common roots we have already been joined and we are still working on the others.
- My grandmother's name was Maria, and my grandfather- Antoni - I am listening to what Anna Tusiewicz from Skarzysko Kamianna says, an elegant woman wearing a white dress. Our grandparents had the same names – the girls from Sosnowiec quickly continue the subject – But it is maybe just coincidence of names, through our roots – similar like your roots, we found somewhere between Konskie and Opoczno.
I am hearing many conversations like that. Everyone is smiling, excited and touched. Every participant has a nametag with his name and city where this person lives. It is not Mr. And Mrs. – it is simply- Ania, Maria, Gosia, Marek, or Andrzej. - I never thought that so many people had the surname Firkowski - said an emotional Zofia Kus (Firkowska). - I live in Konskie, but here I only knew one family called Firkowski.
Continued on page 10
Eric Firkowski from Texas is still filming his relatives.
---
1 Zjazd Rodziny Firkowskich
W Sielpi kolo Końskich, w ośrodkach położonych w lesie nad malowniczym zalewem, wielokrotnie odbywały się różnego rodzaju spotkania po latach, zjeżdżali się maturzyści zdającyswój:pierwszyważny egzamin przed dziesiątkami lat. Nigdy jednak nie zjawiło się w jednym czasie i w jednym obiekcie blisko 200 osób związanych z jednym nazwiskiem. 20 i 21 sierpnia był ten pierwszy raz. Do ośrodka Związku Harcerstwa Polskiego zjechała z całego świata rodzina Firkowskich, wywodząca się z ziemi koneckiej i opoczyńskiej.
Jak Sherlock Holmes
- Genealogia jest jak duże pudełko puzzli - kontynuuje Łukasz. - Każda nowa informacja to jeden element. Można go obracać na wszystkie strony, ale pasuje tylko w jednym, konkretnym miejscu. Cała zabawa polega na analizie poszczególnych informacji, kojarzeniu faktów, zestawianiu dokumentów. Czasem drobny szczegół prowadzi do dużego odkrycia. To taka zabawa w... Sherlocka Holmesa. Poza tym genealogia pozwala poznawać ciekawych ludzi, nawiązywać nowe znajomości, przyjaźnie. Aja uwielbiam układać puzzle, rozwiązywać krzyżówki i zagadki logiczne. Lubię poznawać nowych ludzi, rozmawiać z nimi. Zaciekawiła mnie ta "nudna" genealogia, zainspirowała przeszłość naszych przodków. Ciągle nurtuje mnie nierozwikłana tajemnica -jak połączyć tych, w których żyłach płynie ta sama krew?
Babcia Maria, dziadek Antoni...
W sobotę, w porze obiadowej, do Sielpi dojechali już prawie wszyscy Firkowscy. Jest ich blisko 200. doglądają 30-metrowej długości drzewo genealogiczne. - Właściwie jest to 16 drzew, w których ujęliśmy 1300 osób -tłumaczy Łukasz. - Kilka z tych drzew połączyliśmy już wspólnymi korzeniami, nad innymi wciąż pracujemy.
- Moja babcia miała na imię Maria, a dziadek Antoni - podsłuchuję to, co mówi Anna Tusiewicz ze Skarżyska-Kamiennej, elegancka kobieta w białym stroju. - Nasi dziadkowie mieli takie same imiona -szybko podchwytują temat dziew¬częta z Sosnowca. - Ale to chyba tylko zbieżność imion, choć nasze korzenie, podobnie jak twoje, odnalazłyśmy gdzieś między Końskimi a Opocznem.
Takich rozmów toczy się mnóstwo. Wszyscy są uśmiechnięci, podekscytowani, wzruszeni. Każdy z uczestników ma przypięty identyfikator, na którym widnieje imię, nazwisko i miejsce zamieszkania. Nie ma "pań" i "panów", są Anie, Marie, Małgosie, Markowie, Andrzejowie... - Nigdy bym nie przypuszczała, że tyle osób nosi nazwisko Firkowski - mówi wzruszona Zofia Kuś, z domu Firkowska. - Mieszkam od urodzenia w Końskich, ale znałam tu tylko jedną rodzinę o tym samym nazwisku.
Eric Firkowski z Teksasu wciąż filmował swoich krewnych.
Dokończenie na str. 10
Previous Article Back to Top | Article Transcription | English Translation Next Article
Previous Page | Page 1 | Page 3 | Page 4 | Next Page