Page 3
The first such reunion p3
Previous Article Article Transcription | English Translation Next Article
Article page 3 of 4
Previous Page | Page 1 | Page 2 | Page 4 | Next Page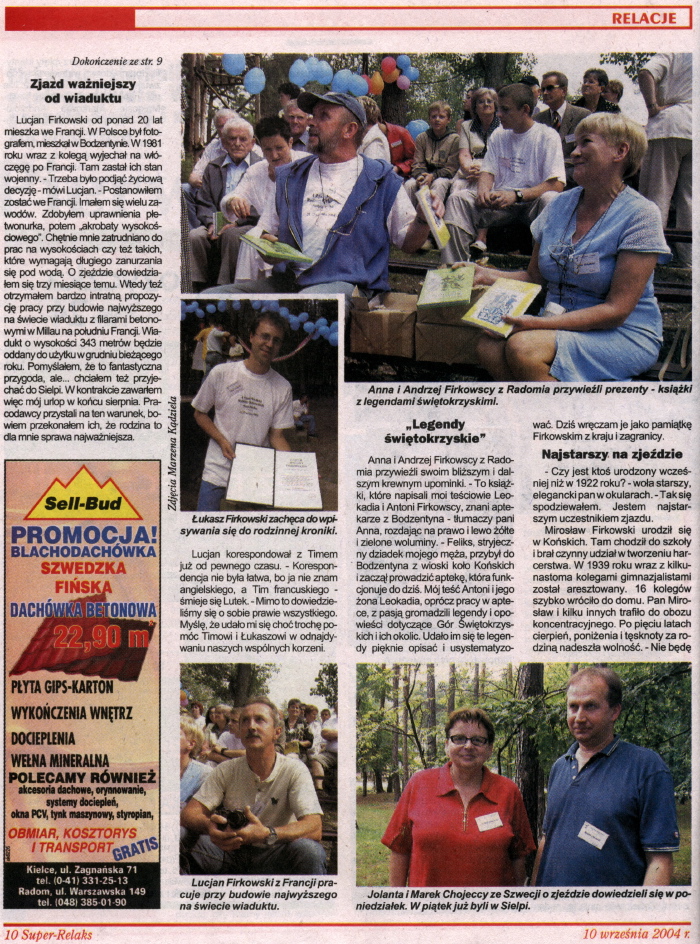 ---
---
Previous Article Back to Top | Article Transcription Next Article
Previous Page | Page 1 | Page 2 | Page 4 | Next Page
Family Reunion - more important than an overpass.
Lucjan Firkowski has lived in France for over 20 years. He was a photographer and he lived in Bodzentyn. In 1981 he left Poland and went to roam around France. There he heard about the martial law. I had to make up my mind- said Lucjan Firkowski – I decided to stay in France. I was working in different trades. I got certified as a frogman, and then "high- rise acrobat". I was working on heights and I was doing a job that needs long immersion under water. I learned about the reunion about 3 months ago. At the same time I got a very lucrative contract for work, to build the highest overpass in the world - overpass with concrete pillars in Millau in the south of France. The overpass will be 343 meters and it will be ready to use in December of this year. I thought it was an amazing adventure, but ... I also wanted to go to Sielpia. I included in my contract, a vacation for the last part of August. The employers capitulated to these conditions, because I convinced them, that family is the most important to me.
Lukasz Firkowski encouraged to write about the family heritage.
Lucjan has corresponded with Tim for some time. - Correspondence was not easy because I didn't know English and Tim doesn't know much French- laughed Lucjan. Nonetheless we understood almost everything. I hope that I helped Tim and Lukasz a little in finding our roots.
Lucjan Firkowski from France is working to build the world's highest viaduct.
Anna and Andrew Firkowscy of Radom brought gifts - a book of świętokrzyski legends.
Swietokrzyski legends.
Anna & Andrzej Firkowski from Radom brought their closer and distant relatives some gifts.- these were books written by my in- laws- Leokadia & Antoni Firkowski, famous druggists from Bodzentyn – said Anna while handing out the yellow and green books. Feliks- my husband's grandfather came to Bodzentyn from a village near Konskie and he started to run the pharmacy that is still in business to this day. My father in – law Antoni and his wife Leokadia, worked in the pharmacy, they passionately accumulated legends and stories about the Swietokrzyskie Mountains and surrounding area. They are beautifully written and organized. Today I give them to the Firkowskis from Poland and from abroad, as a souvenir.
The oldest man on the Reunion
Is there someone here that was born before 1922? – yelled an older, handsome man with glasses. I acknowledged that I was right. I am the oldest participant at this Reunion.
Miroslaw Firkowski was born in Konskie. He was going to school there and he was accessory to form scouts. In 1939, together with a dozen or so of his friends from the gymnasium, he had been arrested. 16 friends returned home soon after. Mr. Miroslaw and a couple of them found themselves in a concentration camp. After five years of suffering, humiliation and longing for family - he gained his freedom. I will not be....( continued on next page)
Jolanta and Marek Chojecki of Sweden learned about the reunion on Monday. On Friday, they were in Sielpia
---
Dokończenie ze str. 9
Zjazd ważniejszy od wiaduktu
Lucjan Firkowski od ponad 20 lat mieszka we Francji. W Polsce był fotografem, mieszkał w Bodzentynie. W1981 roku wraz z kolegą wyjechał na włóczęgę po Francji. Tam zastał ich stan wojenny. - Trzeba było podjąć życiową decyzję - mówi Lucjan. - Postanowiłem zostać we Francji. Imałem się wielu zawodów. Zdobyłem uprawnienia płetwonurka, potem "akrobaty wysokościowego". Chętnie mnie zatrudniano do prac na wysokościach czy też takich, które wymagają długiego zanurzania się pod wodą. O zjeździe dowiedziałem się trzy miesiące temu. Wtedy też otrzymałem bardzo intratną propozycję pracy przy budowie najwyższego na świecie wiaduktu z filarami betonowymi w Millau na południu Francji. Wiadukt o wysokości 343 metrów będzie oddany do użytku w grudniu bieżącego roku. Pomyślałem, że to fantastyczna przygoda, ale... chdatem też przyjechać do Sielpi. W kontrakcie zawarłem więc mój urlop w końcu sierpnia. Pracodawcy przystali na ten warunek, bowiem przekonałem ich, że rodzina to dla mnie sprawa najważniejsza.
Łukasz Firkowski zachęca do wpisywania się do rodzinnej kroniki.
Lucjan korespondował z Timem już od pewnego czasu. - Korespondencja nie była łatwa, bo ja nie znam angielskiego, a Tim francuskiego -śmieje się Lutek. - Mimo to dowiedzieliśmy się o sobie prawie wszystkiego. Myślę, że udało mi się choć trochę pomóc Timowi i Łukaszowi w odnajdywaniu naszych wspólnych korzeni.
Lucjan Firkowski z Francji pracuje przy budowie najwyższego na świecie wiaduktu.
Anna i Andrzej Firkowscy z Radomia przywieźli prezenty - książki z legendami świętokrzyskimi.
"Legendy świętokrzyskie"
Anna i Andrzej Firkowscy z Radomia przywieźli swoim bliższym i dalszym krewnym upominki. - To książki, które napisali moi teściowie Leokadia i Antoni Firkowscy, znani aptekarze z Bodzentyna - tłumaczy pani Anna, rozdając na prawo i lewo żółte i zielone woluminy. - Feliks, stryjeczny dziadek mojego męża, przybył do Bodzentyna z wioski koło Końskich i zaczął prowadzić aptekę, która funkcjonuje do dziś. Mój teść Antoni i jego żona Leokadia, oprócz pracy w aptece, z pasją gromadzili legendy i opowieści dotyczące Gór Świętokrzyskich i ich okolic. Udało im się te legendy pięknie opisać i usystematyzować. Dziś wręczam je jako pamiątkę Firkowskim z kraju i zagranicy.
Najstarszy na zjeździe
- Czy jest ktoś urodzony wcześniej niż w 1 922 roku? - woła starszy, elegancki pan wokularach.-Taksie spodziewałem. Jestem najstarszym uczestnikiem zjazdu.
Mirosław Firkowski urodził się w Końskich. Tam chodził do szkoły i brał czynny udział w tworzeniu harcerstwa. W 1939 roku wraz z kilkunastoma kolegami gimnazjalistami został aresztowany. 16 kolegów szybko wróciło do domu. Pan Mirosław i kilku innych trafiło do obozu koncentracyjnego. Po pięciu latach cierpień, poniżenia i tęsknoty za rodziną nadeszła wolność. - Nie będę
Jolanta i Marek Chojeccyze Szwecji o zjeździe dowiedzieli się w poniedziałek. W piątek już byli w Sielpi
Continued from page 9
Previous Article Back to Top | Article Transcription | English Translation Next Article
Previous Page | Page 1 | Page 2 | Page 4 | Next Page