Page 4
The first such reunion p4
Previous Article Article Transcription | English Translation Next Article
Article page 4 of 4
Previous Page | Page 1 | Page 2 | Page 3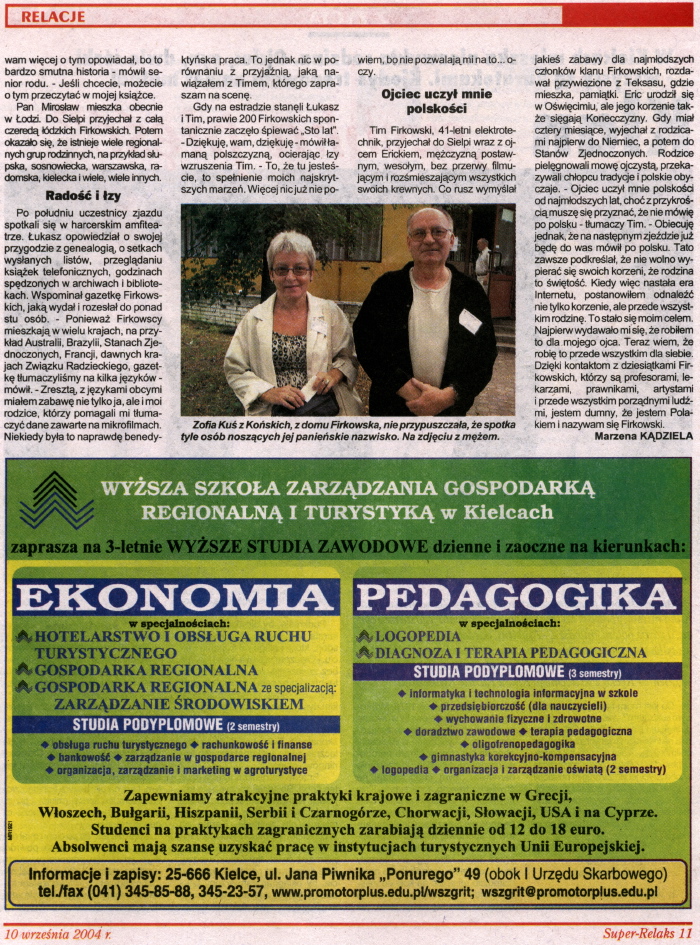 ---
---
I will not be able to tell you about that, because this story is very sad- said the senior of the family – If you want, you can read about it in my book.
Mr. Miroslaw now lives in Łódź. He came to Sielpia with a Firkowski group from Łódź. It turned out that many regional family groups exist. e. g. from Słupsk, Sosnowiec, Warszawa, Radom,Kielce and many others.
The joy and tears.
In the afternoon the participants of the reunion met at the scout amphitheater. Lukasz spoke about his adventures with genealogy, about the hundreds of letters that he sent, and about how he was looking for people in the telephone directory, how many hours he spent at archives and libraries. He also talked about the family newsletter that was sent to over a hundred people. Because Firkowskis live in many different countries e.g. in Australia, Brazil, The United States, France, former countries of the Soviet Union - we translated the family newsletter into several languages - said-Anyway with languages not only me, but also my parents had fun. My parents helped me translate dates on microfilms. Sometimes it was a really painstaking job. But it mean nothing compared to the friendship that I gained with Tim – who I invite on stage.
When Tim & Lukasz stood on the stage – almost 200 Firkowskis spontaneously began to sing "Sto lat". Thank you very much - said Tim in broken Polish, wiping away emotion tears, Tim - This is the fulfillment of my most secret wishes that you are here. I will not tell more because my eyes will not allow tell me.
Father taught me to be Polish.
Tim Firkowski, a 41 year old electronic technician came to Sielpia with his father Eric. Eric is a handsome, funny, the whole time videotaping and joking with all his relatives. The entire time he figured out how to have fun with kids from the Firkowski clan, and he gave away souvenirs from Texas. Eric was born in Oswiecim, but his roots go to Konskie. When he was 4 months old he went to Germany with parents and then to The United States. His parents took care to teach him the Polish language and taught him Polish tradition and customs. My father taught me to be Polish from my youngest years, but I must say with regret that I can't speak Polish- said Tim. I promise that at the next Family reunion I will be talking to you in Polish. My father said that I can't deny our heritage, and that family is blessed. Then when the era of the Internet era arrived, I decided to find not only my roots, but, more importantly, I wanted to find my family. It is my goal. At first I thought that I was doing it for my father. More importantly, now I know that I am doing it for myself. Thanks to the contact with dozens of Firkowskis I know that they are professors, doctors, lawyers, artists and especially that they are very good people. I am proud that I am a Pole and that my name is Firkowski.
Marzena KADZIELA
Sophie Kus from Końskie, maiden name Firkowska, had not imagined that she would meet many people bearing her maiden name. Pictured with her ​​husband.
wam więcej o tym opowiadał, bo to bardzo smutna historia - mówił senior rodu. - Jeśli chcecie, możecie o tym przeczytać w mojej książce.
Pan Mirosław mieszka obecnie w Łodzi. Do Sielpi przyjechał z całą czeredą łódzkich Firkowskich. Potem okazało się, że istnieje wiele regionalnych grup rodzinnych, na przykład słupska, sosnowiecka, warszawska, radomska, kielecka i wiele, wiele innych.
Radość i łzy
Po południu uczestnicy zjazdu spotkali się w harcerskim amfiteatrze. Łukasz opowiedział o swojej przygodzie z genealogią o setkach wysłanych listów, przeglądaniu książek telefonicznych, godzinach spędzonych w archiwach i bibliotekach. Wspominał gazetkę Firkowskich, jaką wydał i rozesłał do ponad stu osób. - Ponieważ Firkowscy mieszkają w wielu krajach, na przykład Australii, Brazylii, Stanach Zjednoczonych, Francji, dawnych krajach Związku Radzieckiego, gazetkę tłumaczyliśmy na kilka języków -mówił. - Zresztą z językami obcymi miałem zabawę nie tylko ja, ale i moi rodzice, którzy pomagali mi tłumaczyć dane zawarte na mikrofilmach. Niekiedy była to naprawdę benedyktyńska praca. To jednak nic w porównaniu z przyjaźnią jaką nawiązałem z Timem, którego zapraszam na scenę.
Gdy na estradzie stanęli Łukasz i Tim, prawie 200 Firkowskich spontanicznie zaczęło śpiewać "Sto lat". - Dziękuję, wam, dziękuję - mówił łamaną polszczyzną ocierając łzy wzruszenia Tim. - To, że tu jesteście, to spełnienie moich najskrytszych marzeń. Więcej nic już nie powiem, bp nie pozwalają mi na to... oczy.
Ojciec uczył mnie polskości
Tim Firkowski, 41-letni elektrotechnik, przyjechał do Sielpi wraz z ojcem Erickiem, mężczyzną postawnym, wesołym, bez przerwy filmującym i rozśmieszającym wszystkich swoich krewnych. Co rusz wymyślał jakieś zabawy dla najmłodszych członków klanu Firkowskich, rozdawał przywiezione z Teksasu, gdzie mieszka, pamiątki. Eric urodził się w Oświęcimiu, ale jego korzenie także sięgają Konecczyzny. Gdy miał cztery miesiące, wyjechał z rodzicami najpierw do Niemiec, a potem do Stanów Zjednoczonych. Rodzice pielęgnowali mowę ojczystą przekazywali chłopcu tradycje i polskie obyczaje. - Ojciec uczył mnie polskości od najmłodszych lat, choć z przykrością muszę się przyznać, że nie mówię po polsku - tłumaczy Tim. - Obiecuję jednak, że na następnym zjeździe już będę do was mówił po polsku. Tato zawsze podkreślał, że nie wolno wypierać się swoich korzeni, że rodzina to świętość. Kiedy więc nastała era Internetu, postanowiłem odnaleźć nie tylko korzenie, ale przede wszystkim rodzinę. To stało się moim celem. Najpierw wydawało mi się, że robiłem to dla mojego ojca. Teraz wiem, że robię to przede wszystkim dla siebie. Dzięki kontaktom z dziesiątkami Firkowskich, którzy są profesorami, lekarzami, prawnikami, artystami i przede wszystkim porządnymi ludźmi, jestem dumny, że jestem Polakiem i nazywam się Firkowski.
Marzena KĄDZIELA
Zofia Kuś z Końskich, z domu Firkowska, nie przypuszczała, że spotka tyle osób noszących jej panieńskie nazwisko. Na zdjęciu z mężem.