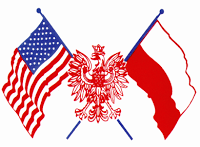 October is Polish Heritage month. Celebrate your Polish Heritage! Many Poles and Polish American groups celebrate this month to remember the contributions that Poles have made to this country. Beginning in 1981 Polish Americans have set October to celebrate.
The beginning of the largest immigration of Poles took place in the late 1800s, but it really all began in 1608 when the London Company hired some skilled craftsman from Poland to work in Jamestown, VA.
Poles have been a part of America's history and culture before it became a country and there were two immigrants named Kazimierz Pułaski and Tadeusz Kościuszko that were leaders in the military during our Revolutionary War, which helped establish the independence of the United States of America.