I was looking for a new digital camera to take with me on my upcoming research / vacation trip to Poland for 2 months. I will be at repositories and churches and graveyards, so I thought this would be the perfect opportunity to get a digital camera that has a Geo-tagging function. After shopping around I purchased the 16.2 MP Sony DSC-HX7V.

Being a previous Sony owner, it was relatively easy to maneuver through the menus. I was amazed at all the features... HD video, 3D photography (viewable on 3D TVs), Auto panorama photography, GPS & compass function & the list goes on. The unit is light and feels very sturdy, the back display is easy to see in the sunlight.

This camera is going to be the perfect match for a genealogist. I will be able to mark the latitude and longitude of those gravestones I find. Never again will I return from touring and wonder where I was when that photo was taken.

Mix this with Google maps tools and the world belongs to me!

When digital cameras first came out, I swore I would never get a digital camera. I mean... How could a digital camera compare to film photography? I had spent most of my life... since I was about 8 years old I think, taking pictures and I have quite an investment into three film cameras, two SLRs (Pentax K1000 & PZ1P) and one medium format (Mamiya C220) along with all the goodies .... lenses, filters, flashes, meters. My first trip to Poland in 2004 I went into digital camera submission and purchased a 3.2 MP Sony DSC-P8. I think that at the time it cost about $450 and memory sticks were really expensive.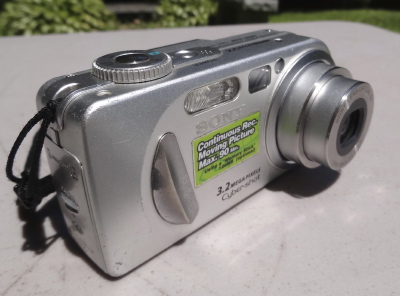 I still was not able to let go of the film though, and brought along my Pentax PZ1P. With all the photos I had taken I almost went broke developing film. That was the last time I used my film cameras. Digital age.. here I am. I still own all the film cameras, but am looking to get a nice DSLR.

My "OLD" digital camera still looks new despite the fact that it has traveled all over with me in 7 years. I have taken over 200,000 photos with this camera and it is still going strong (YES I did say 200,000, that is not a typo). I hate to abandon it but new technology prevails. It is hard to imagine something only 7 years old could be classified as an antique, but in this technological world we live in, it really is an antique.

I suppose I will hang on to it as a back-up, but I know me! I will put it on the shelf and it will sit there until it is worth more as scrap metal.