Continued from
After examining the clues I had put together over the years, I began to look for William D. Bond in US Navy Records from WWII on the Fold3 website. A general search for William Bond gave me 23,343 matches for that name, so I needed to narrow that down. I chose to limit the matches to WWII documents leaving me with 1,695 matches. I narrowed that down even further by selecting WWII Navy Muster Rolls which left me with 912 matches. 912 matches was still a lot, but I would be willing to look through every single one of those records, if it meant that I would find something about my grandfather. Before I did that, I decided to change my search to include his middle initial and I was left with 39 matches in 32 results. That is a lot better than 900. I started going through each record one by one. I discovered that during WWII there were 2 individuals named William D. Bond and they both had served on submarines. I needed to identify the correct William D Bond, so I looked at the time period that my William Bond would have been in Manitowoc, Wisconsin in 1943 and lo and behold... there it was. He is listed as William "D" Bond as opposed to William D. Bond. The other William D. Bond was not in Manitowoc, Wisconsin in 1943, so I noted the service number of William "D" Bond as that was most likely the correct person I was looking for.
I went through all the Navy Muster Rolls available for William D Bond and saved & printed all those that matched William "D" Bond and his service number. I had 13 documents that belonged to William "D" Bond. I organized them into chronological order so I could move through time. The first Muster Roll showed he was on the
USS R-20 ((SS-97)
on 30 April 1943 as a Fireman 3rd Class (F3c). This is getting exciting because I had guessed that William would probably have had something to do with submarines and here it was. He Enlisted in the Navy on June 7th 1942 in Macon, Georgia. This was incredible, because Georgia matched the information I already had. At this point I am getting really excited and beginning to shake a little. This has been a mystery for 70 years.
I moved through the Muster Rolls and came across the one where William was listed aboard the
USS Raton (SS270)
on its commissioning date of 13 July 1943 and the mission listed was - Submarine Maintenance Activity from Manitowoc, Wisconsin.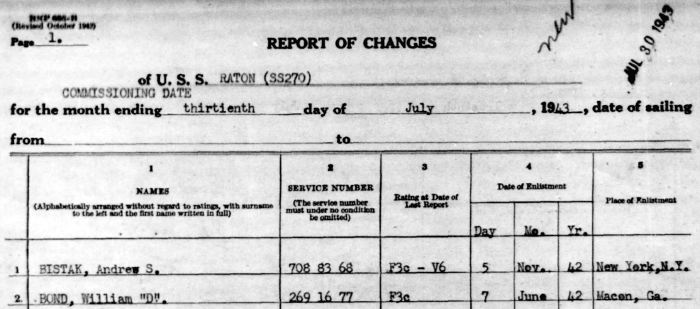 This was a KEY piece of information. William "D" Bond was in fact in Manitowoc, Wisconsin at the time he would have met my grandmother. The
USS Raton (SS270)
 was also one of the vessels I had guessed in my
previous post
that William would be stationed. All the pieces are coming together... FINALLY! Aboard the 
USS Raton (SS270)
, William move up in rank to Fireman 2nd Class (F2c), then Fireman 1st Class (F1c) and finally the last Muster Roll for him on the
USS Raton (SS270)
 lists his position as Motor Machinist's Mate 3rd Class (MoMM3c). 
The last 2 Muster Rolls show William "D" Bond aboard the
USS Flasher (SS249)
 with the last one dated December 1st 1945. Here again, this was another submarine. I found no Muster Rolls after this date so I will take a guess that William probably completed his service to the Navy shortly after this date. A request for his personal records from the Navy should give me more details. A future post on the findings will be written after the records are received. With all the clues I had and the information I have found in these documents, I am 99.9% sure that I have located information for the person named William D. Bond that is my biological grandfather. I am going to estimate that William "D" Bond was born somewhere between 1918 - 1924. I will be very curious if I am correct on those birth dates.
It is interesting to note that the particular records I was looking at were not added to the database until 2012, so it is understandable why I was not able to locate anything as I explained in an earlier Blog post. If you don't find something, always go back and search again, as it just might be there. If you have a brick wall, you can not give up.