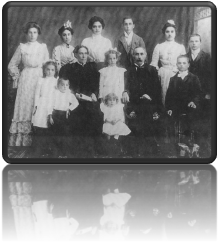 Are you curious about your Family History and want to know more, but just don't have the ability or time to do the research yourself? Would you like to discover what interesting things might have happened to your Ancestors?
How much do you know about your ancestors? Were they pioneers, entrepreneurs, immigrants looking for a better life or just for religious freedom? What challenges did they face, what was their day-to-day life like? Do you know what motivated them to come to America?

Do you look like your ancestors? What characteristics or traits have you inherited from your ancestors? And what can they teach you about yourself and about your own life patterns and choices?

These are some of the questions that encourage us to gain more knowledge about our ancestors. Are there additional questions that have motivated you to explore your family history?

If you are curious about who your ancestors are and what places and events shaped their lives, then you have come to the right place. Genealogy research can help you learn about your family's unique history, traditions, origins, and how those things led to your life.

Allow The Genealogy Assistant be your guide on a voyage into the past. The Genealogy Assistant offers a number of genealogical and historical research services that can be tailored to meet your needs to can help you in the search for your ancestors. For us the reward is in the journey, whether we are researching your ancestors or our own.