What Is A City Directory & How Will It Help My Research?
City directories are often an underutilized resource for genealogical research. I will explain some of the many ways that city directories can give your research a big boost.
City directories are basically a big address book for everyone living in a community. They were used before telephone books became available, but still were produced in addition to telephone books. A city directory contains much more information than a telephone book does.
I find that a city directory can be as important as a vital record, especially if I am having a hard time finding information about someone.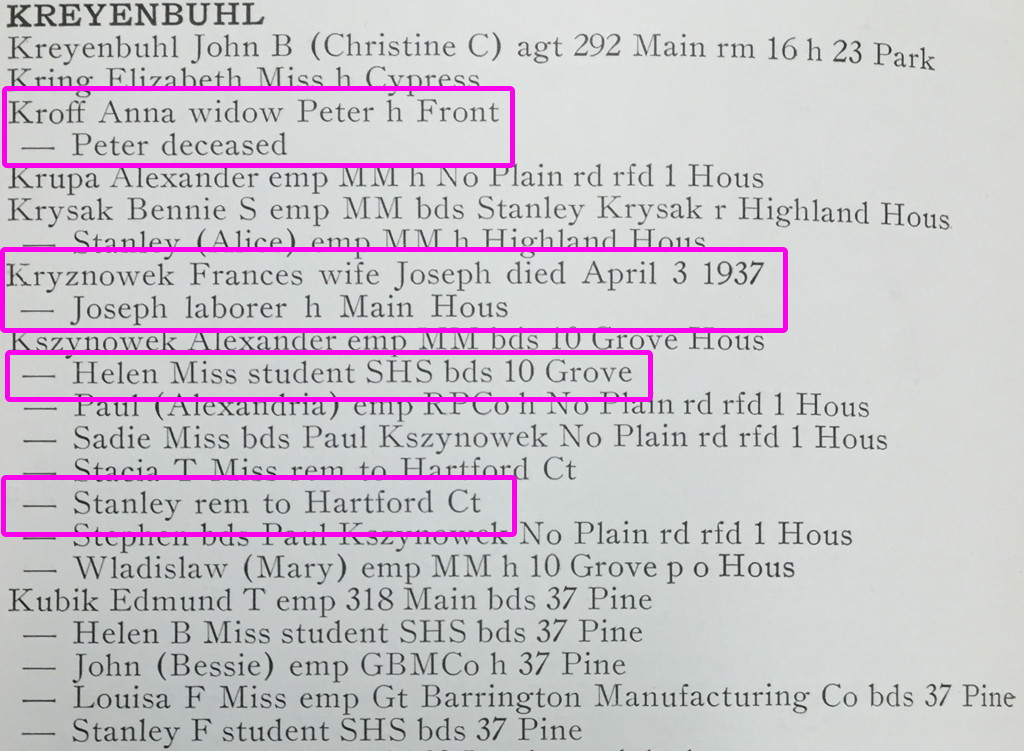 You can identify family groups, a person's occupation &/or place of employment, school attended, estimated date of death, military service, where someone moved to & marriage information can be found.
Some city directories are available online, but almost always  those are incomplete. You will need to find the best repository that has the most complete set or use multiple repositories to have all directories available to you. You can start by checking with the local public library, but the local historical society may have copies of the directory also. The State Library for your state may also have a good set of directories.
There is a lot of information within a city directory, but due to space not all information can be entered fully, so abbreviations are used. Within the first set of pages of a city directory, there will be an abbreviation index for information contained within. You will want to go to this page first so you can decipher the abbreviations. If you are going to take photos of information, make sure you get a photo of this abbreviation index also making sure you know what year it comes from as they may change from year to year.
Some examples of information from the Great Barrington, MA City Directory are in the image above. You can see that Anna Kroff was a widow to Peter & he is specifically listed as deceased. In the next highlighted example. Frances Krzynowek was the wife of Joseph who died on 3 April 1937. Miss Helen Kszynowek [Krzynowek] was a student at SHS. Stanley Kszynowek [Krzynowek] moved to Hartford, CT.

The example on the right from the Chicopee, MA City Directory, shows that Stella A. Zebro married Julian F Papuga.
If you have an ancestor that you cannot find in a census that you would expect them to be in, they may have left the US and returned later & this information may be contained in the city
directory. This can be useful because if they left & you know that person "stayed" in the US, they probably returned to 

the US after leaving and there will be a second ships manifest for them that has a location of origin if that information was not on the first ships manifest or was misspelled or unreadable. The image to the left gives a perfect example of listing someone who left the US. In this case Joe & Theresa Kubk (?sp) returned (removed) to Poland.
You must also remember that even though a person was living in the community, he may have been missed while putting data together for the directory, so it is important to check all the years above or below when that person was there. The more directories you find an ancestor in, the better picture you will get of his/her life.
You will see in the various example images above that the occupation &/or employer is listed. You may be able to learn more about your ancestor's life if the local historical society has any records from the company.
In summary, make searching city directories a standard part of your genealogy research, because they are a gold mine of information. Remember that as is the case in other documents, surnames will likely be misspelled & you must take the time to do a thorough search.